7. MEDNARODNI NE-FESTIVAL GLEDALIŠČA ZATIRANIH // 7. INTERNATIONAL NON-FESTIVAL OF THE THREATRE OF THE OPPRESSED
English below.
SLO
Kapitalistični sistem in njegov način delovanja vse bolj in neizprosno izkorišča vsakogar in vse – brez meja. Naš trenuten način življenja je samouničujoč in dolgoročno nevzdržen, kapitalistično izčrpavanje vseh virov našega planeta pa je ena glavnih političnih in življenjskih groženj našega časa. V sistemu pod diktaturo trga postane vsaka okoljevarstvena iniciativa nov produkt in tržna niša. Od proizvodnje električnih avtomobilov do prodaje izključno varčnih žarnic. Stalna gospodarska rast in želja po dobičku ne smeta biti izhodišče v prizadevanju za obstoj človeške vrste na planetu Zemlja, saj vodita v to, da bomo na koncu pojedli sami sebe.
Kakšni so možni načini prizadevanja za bolj trajnostno družbo? Ali soočanje z ekološko krizo pomeni tudi soočanje s patriarhalnim, rasističnim, fašističnim in kapitalističnim sistemom?
7. mednarodni Ne-festival gledališča zatiranih je namenjen aktiviranju posameznic_kov in skupin, ki bomo v petih aktivnih dneh preko delavnic in predstav odpirali tematike okoljevarstva in klimatskih sprememb ter iskali načine za bolj trajnostne in okolju ter ljudem prijaznejše načine sobivanja.
ORGANIZATOR: Kulturno umetniško društvo Transformator
SOORGANIZATORJI: Zavod MARS, DEOS Center starejših Gornji Grad, Društvo Krog, Zavod Bob
FINANCERJI: Občina Gornji Grad, Javni sklad Republike Slovenije za kulturne dejavnosti, Mestna občina Ljubljana
---
---
ENG
The capitalist system and its mode of functioning is becoming ever more ruthless in the exploitation of everything and everyone – without limitations. Our current lifestyle is self-destructive and unsustainable in the long-term, while the capitalist exploitation of all of our planet's resources is one of the main political and existential threats of our time. Under the dictatorship of the free market any environmental initiative turns into a product and marketing niche; everything from producing electric cars to action sales of energy saving light-bulbs. Permanent economic growth and the profit motive cannot represent the starting point for the endeavour to preserve the human race on planet Earth, since they both direct us towards eating our very selves in the end.
There are many ways of fighting for a more sustainable society. Confronting the environmental crisis also means confronting the patriarchal, racist, fascist and capitalist system.
The 7th International Non-festival of Theatre of the Oppressed aims to activate groups and individuals who will be addressing the issues of environmental and climate change during five active days and looking for ways of more sustainable and more environment and people friendly ways of cohabitation.
ORGANISER: Transformator Association
COORGANISERS: MARS Association, DEOS Centre for elderly people Gornji Grad, Krog Society, Bob Association
FINANCIAL SUPPORT: Municipality of Gornji Grad, Javni sklad Republike Slovenije za kulturne dejavnosti, Mestna občina Ljubljana
Pomembne informacije // Important information
English below.
SLO
Gornji Grad leži v dolini med gorami, zato so lahko noči tudi sredi poletja dokaj hladne. Poleg kreme za sončenje, sandalov, kratkih hlač in slamnikov ne pozabite prinesti toplih oblačil za zvečer, pa tudi dežnika ali pelerine, če bo slučajno deževalo. Gornji Grad leži sredi neokrnjene narave in želimo si, da bi tako tudi ostalo. Zato zagovarjamo življenje v skladu z naravo.
Kamp je dokaj rudimentaren, brez električne napeljave in vodovoda. Oboje, pa tudi brezžični internet, je na voljo v Nefestivalski hiši kakih sto metrov stran od kampa, spodbujamo pa vas, da se za nekaj časa odrečete udobju civilizacije in se prepustite bolj prvinskemu življenju. Zraven kampa teče lep bister potok, kjer se lahko umijete. V kampu bodo na razpolago poljska stranišča in poljski tuš, pa tudi naravno milo.
Prinesite šotor, spalno vrečo in odejo.
Prinesite pulover ali jopo za večere, ki so lahko dokaj hladni.
Prinesite s sabo svoj krožnik, skodelico in pribor, da se izognemo kupom odpadnega plastičnega posodja.
Prinesite žepno svetilko, saj v kampu ni osvetljave.
Ne pozabite kopalk, saj je v bližnji rečici čudovit tolmun, kjer se lahko osvežite.
Stvari spravite v plastično vrečko, da jih zavarujete, preden jih spravite v nahrbtnik. Smeti odlagajte v vreče za smeti v kampu in ločujte odpadke.
Čez reko v mestu je trgovina, kjer lahko kupite sadje, prigrizke in pijačo.
Pazite nase in na druge. Vsi bi se radi imeli lepo zato moramo paziti drug na drugega. Nenazadnje, s sabo prinesite dobro voljo in proaktivnosti, saj na Ne-festivalu vsi sodelujoči soustvarjamo vse aktivnosti po principu aktivne participacije temelječe na skupnostnem delu.
---
---
ENG
Gornji Grad lies in a valley among mountains, so even in the peak of summer nights can get cold. Be sure to bring enough warm clothes for evenings, as well as sunblock, flip-flops, shorts and sunhats. Just in case it rains also bring  some wet weather gear too. Gornji Grad lies amidst beautiful nature and we would like to keep it this way. So we promote living in harmony with nature.
The campsite is rather basic, with no electricity and plumbing. Both, as well as wireless internet, will be provided in the Non-festival headquarters some 100 meters from the campsite, but we encourage you to let go the perks of civilisation and enjoy the wilder side of life for a while. There is a beautiful pure stream running by the camp which can be used for washing and brushing your teeth. Field toilets and a field shower will be provided at the campsite, as well as natural soap.
Bring a tent, plus sleeping bag and blanket.
Bring your own plate, cup and utensils in order to avoid piles of waste plastic dishes.
Warm jumper and a jacket for the evening as it can get a little colder at night.
Bring a flashlight, as there are no lights in the camp.
Bring swimwear as there is a lovely swimming spot at a nearby river and it is really refreshing to take a dip in it on a hot summer day.
Pack your things into a plastic bag before putting into rucksack to keep them protected. Use the recycling trashbags at the campsite and sort your waste.
There is a shop in the town of Gornji Grad just across the river where you can get fruit, snacks and drink.
Take care of yourself and of each other.  We all want to have a great time, and looking out for your friends and other people around you can help to keep us all safe. Finally, bring a positive and proactive attitude. In the Non-festival all participants co-create all activities according to the principle of active participation based on communal work.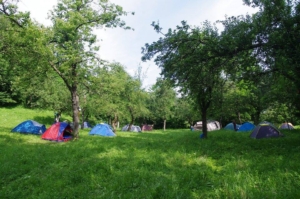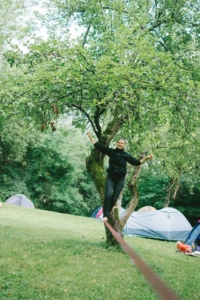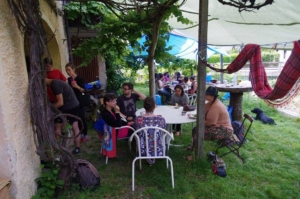 Delavnice // Workshops
English below
SLO
We Don't Need Another Hero! – naslavljanje podnebne problematike v kapitalizmu
Uroš Kaurin (31. julij, ob 16:00; 1., 2., 3. avgust, 10.00–13.00 in 15.00–18.00). Udeležba je obvezna v vseh terminih delavnice.
Maks. število udeleženk_cev: 10
Delavnica avtorskega gledališča se bo pričela 31. julija, s prvimi navodili in delom za gradnjo in razvijanje avtorskih prizorov v paru ali triu na temo podnebne problematike v kapitalizmu. Vsak ustvarjen prizor se bo pokazalo, nato pa analiziralo, komentiralo in podalo feedback ustvarjalkam_cem, ki bodo na podlagi prejetih informacij, ponovno ustvarjali nove prizore ali razvijali stare prizore.
Uroš Kaurin: "Iskreno verjamem, da je kultura (kreativno in kritično mišljenje ter ustvarjanje) eden glavnih vodnikov na poti do egalitarnega, solidarnega, pravičnega – srečnega sveta. A to ni samoumevno. Da bi bil boj za kulturo neizprosen, moramo biti do kulture, pa tudi nas kot njenih ustvarjalcev, neizprosni. Ne pristajam na navidezno solidarnost in kvazi-alternativnost. Ne pristajam na naše in njihove. Bolj kot so nam jasne vrednote in cilji, za katere se borimo, bolj je naš boj odprt in vključujoč. Če so to seveda naše vrednote. Moje so. Po mojem je edino afirmativna pozicija motor sprememb. Nasprotovanje nečemu brez jasne alternative ali vizije je zame zgolj prvi korak do avtoviktimizacije in kot tako ne more opolnomočiti nikogar."
---
There Is a Crack In Everything – pokrajine telesa in sveta
Birgit Fritz (1., 2., 3. august, 15.00–18.00). Udeležba je obvezna v vseh terminih delavnice.
Maks. število udeleženk_cev: 10
Je res treba vložiti 120%, če želimo kot aktivisti resnično, aktivno in temeljito sodelovati v boju proti podnebnim spremembam? Bi se morali počutiti krive, ker smo kljub aktivističnemu boju in delovanju udeleženi v kapitalizmu? Je mogoče poskrbeti zase in se osredotočiti nase, ne da bi bili zgolj individualistični in pustili na cedilu druge v kolektivnem boju za planet, družbo in vsa živa bitja?
Delavnica bo potekala po metodologiji, ki izvira iz avtopoetskega gledališča-
Birgit Fritz (birgitfritz.net), rojena na avstrijskem koroškem, je avtorica knjige InExActArt – The Autopoietic Theatre of Augusto Boal: a Handbook of Theatre of the Oppressed Practice. (NeEksAktNa umetnost – avtopoetsko gledališče Augusta Boala: priročnik za prakticiranje gledališča zatiranih. Ima dolgoletne praktične izkušnje z gledališčem zatiranih, je dramska terapevtka, učiteljica metode feldenkrais, članica ISIRRI in soustanoviteljica organizacij TDU-Wien ter Forumtheatregroup SpielerAI. Na Univerzi na Dunaju uči predmet Gledališče kot raziskovanje, kot gostujoča mentorica pa je vodila tudi treninge v Sloveniji in Baskiji.
---
Body Work for Artivists
Abel Solares (1., 2., 3. avgust, 10.00–13.00). Udeležba je obvezna v vseh terminih delavnice.
Maks. število udeleženk_cev: 20
Delavnice z Abelom Solaresem združujejo trening fizičnega gledališča z elementi japonskih in latinskoameriških umetniških oblik. Osredotočile se bodo na fizično prezenco igralke_ca in na estetiko slikovnega gledališča in pripovedništva, s tem pa bodo fizično prebudile telesa in duha udeležnk_cev kot igralk_cev in aktivistk_ov.
Abel Solares, rojen v Gvatemali, je igralec, gledališki antropolog, ustanovni član gledališča Teatro Vivo de Guatemala. Študiral je igro in režijo v Gvatemali, Costa Rici in Mehiki. Je izvedenec za japonske performativne umetnosti in raziskovalec tradicionalnega japonskega gledališča. Objavil je več prispevkov in študij o gledališču in maskah, o performativnih telesih in kulturnih identitetah. Trenutno prebiva v Gradcu, kjer trenira pripovedovalce, organizira pripovedovalske dogodke, aktiven pa je tudi pri Arte sin Fronteras – Kunst ohne Grenzen (www.artkunst.org).
---
Prosto po Brechtu
Mišo Mićić in Sara Lucu (1., 2., 3. Avgust, 15.00–18.00). Udeležba je obvezna v vseh terminih delavnice.
Maks. število udeleženk_cev: 10
Gledališče ni zgolj prostor ustvarjalnosti in umetniškega izražanja, temveč prostor svobodnega premisleka o sebi, družbi in sistemu, v katerem živimo. Je prostor, v katerem lahko pokažemo druge možnosti sveta, ki se morda zdijo utopične, dokler jih ne vidimo bivati na odru. Parafrazirano po Brechtu namreč realnost ustvarjamo ljudje, kar pomeni, da jo lahko ljudje tudi spreminjamo – prav tako kot gledališko predstavo. Če pa so ljudje tisti, ki lahko dosežejo potrebne spremembe v svetu, se morajo relevantnih problemov najprej zavedati in o njih tudi razmišljati.Ravno zato bomo na delavnicah iskali in kritično raziskovali tematike in vprašanja, ki se nam zdijo relevantna za naš čas, obenem pa preizkušali tudi relevantne načine uprizarjanja glede na želene učinke.
Sara Lucu je diplomirana sociologinja ter magistrica gledališke režije, ki se z gledališčem ukvarja že več kot dve desetletji. Mišo Mićić je diplomirani prevajalec, ki trenutno zaključuje magistrski program Oblike govora na Akademiji za gledališče, radio, film in televizijo. Oba sta večstranska gledališka ustvarjalca z raznolikimi izkušnjami na področju umetnosti in performiranja. V svojem večletnem delovanju sta gledališče raziskovala kot igralca, performerja, režiserja, dramaturga, producenta, pisca ter mentorja.
---
Pred podnebnimi spremembami – delavnica v DEOS, Centru starejših
Mihaela Žveglič in Simon Macuh (31st July, 1st, 2nd August – 15.00–17.00).
Delavnica je zaprtega tipa!
V času Ne-festivala gledališča zatiranih se bo ponovno odvijala tudi delavnica za starejše v DEOS Centru starejših Gornji Grad. Zastavljena je kot medgeneracijski dialog s starejšimi, za katere vemo, da so polni zgodb in izkušenj. Njihova končna produkcija bo javna in predstavljena na Ne-festivalu.
---
---
ENG
We Don't Need Another Hero! – addressing climate issues in capitalism
Uroš Kaurin (31st of July, at 16.00; 1st, 2nd, 3rd of August, 10.00–13.00 and 15.00–18.00). Obligatory attendance at all sessions.
Max. number of participants: 10
The workshop of self-authored theatre will be starting on 31st of July with the first instructions and work on constructing and developing self-authored scenes in couples or trios on the topic of climate issues in capitalism. Each prepared scene will be shown and then analysed, commented and discussed in group. This will provide feedback for the creators to start re-creating new scenes or developing old ones.
Uroš Kaurin: "I sincerely believe that culture (creative and critical thinking and creativity) is one of the principal factors in reaching an egalitarian, just and solidary world. This is however far from given. For a relentless fight for culture we need to be ruthless to culture as well as its creators. I do not accept superficial solidarity and quasi-alternativity. I do not accept the separation into us and them. The clearer our values and goals that we are fighting for will be, the more our fight can be open and inclusive. On condition that these are our values, of course. They are mine. I believe only the alternative stance can be an agent of change. Opposing something without a clear alternative or vision is for me merely the first step to self-victimisation and as such it cannot empower anybody."
---
There Is a Crack In Everything – landscape(s) of the body and the world
Birgit Fritz (1st, 2nd, 3rd August, 15.00–18.00). Obligatory attendance at all sessions.
Max. number of participants: 10
Is it necessary to give 120% in order to actively, truly and thoroughly participate as an activist in fight against the climate change? Should we feel guilty for participating in the capitalism, never mind our activist fights and actions? Is it possible to take care of and focus on oneself without being individualistic and letting down others in the collective fight for the planet, society and all living beings?
Methodology used in the workshop is drawn from the Autopoetic theatre.
Birgit Fritz (birgitfritz.net), born in Carinthia, is the author of InExActArt – The Autopoietic Theatre of Augusto Boal: a Handbook of Theatre of the Oppressed Practice. She is a longstanding TO practitioner, dramatherapist, feldenkrais-teacher, member of JSIRRI, and co-founder of TdU-Wien and Forumtheatregroup SpielerAI. She teaches Theatre as research at the University of Vienna, and she has also led trainings as a visiting tutor in Slovenia and the Basque country.
---
Body Work for Artivists
Abel Solares (1st, 2nd, 3rd August, 10.00–13.00). Obligatory attendance at all sessions.
Max. number of participants: 20
Workshops with Abel Solares will include physical theatre training with elements of Japanese and Latin American art forms. They will focus on the physical presence of the actor and the aesthetics of Image Theatre and Storytelling and through it physically awake the bodies and minds of the participants as actors and activists.
Abel Solares, born in Guatemala City, is an actor, theatre anthropologist, founder member of Teatro Vivo de Guatemala. He studied acting and directing in Guatemala, Costa Rica and Mexico. He is a scholar of Japanese performance arts and has done research in traditional Japanese theatre, and has also written studies and publications on theatre and mask, performing bodies and cultural identities. He currently lives in Graz, where he trains storytellers and hosts storytelling events and is active in Arte sin Fronteras – Kunst ohne Grenzen (www.artkunst.org).
---
Free Form Brecht
Mišo Mićić and Sara Lucu (1st, 2nd, 3rd August, 15.00–18.00). Obligatory attendance at all sessions.
Max. number of participants: 10
Theatre is not just a space of creativity and artistic expression, but also a space for open reflection on ourselves, the society and the system in which we are living. It is a space in which we can explore other possibilities of the world, ones that might appear utopian before we see them exist on stage. To paraphrase Brecht: reality is created by people which means that people can also change it – just like a theatre performance. And if people are the ones who can effect the necessary change in the world, they must first become aware of relevant issues and reflect on them. Thus we will be looking for and critically researching the topics and issues that we find relevant for our time, while simultaneously testing out the relevant performative approaches according to the desired effect.
Sara Lucu holds a bachelor's degree in sociology and a master's in theatre direction. She has been working in theatre for over two decades. Mišo Mičić holds a bachelor's degree in translation and is currently finishing the master programme Forms of speech at the Theatre Academy. They are both versatile theatre makers with diverse experience in the fields of art and performance. Through years of theatre work they have been exploring it as actors, performers, directors, dramaturgists, producers, writers and trainers.
---
Before the Climate Change – workshop in DEOS, Centre for elderly people
Mihaela Žveglič and Simon Macuh (31st July, 1st, 2nd August – 15.00–17.00).
This workshop is not open to the general public!
During the Non-festival we will be organising the workshop for elderly people in the DEOS Centre in Gornji Grad. It is meant as intergenerational dialogue with the elderly for whom we know that they are full of stories and experiences. Their final production will be presented publicly at the Non-festival.
Predstave // Performances
English below.
SLO
30. 7. 2019, 20.00 (Kulturni dom Gornji Grad)
Ena roza je dovolj, forumska predstava
Kje vse se zrcali patriarhalnost in heteronomativnost in kakšne so naše možnosti izbire (ne) glede na spol?
Forumska predstava "Ena roza je dovolj" je nastala kot odgovor na primer sodne prakse v primeru spolnega nasilja v Sloveniji. Skozi proces ustvarjalke potrjujejo, da vsak "da" in vsak "ne" v vsakem primeru služi moškim. Ne glede na konvencije mednarodnega prava. Ker je ena dovolj, da smo vpletene vse.
Izvedba in produkcija: KUD Transformator, Magdalene Krivopete
---
31. 7. 2019, 19.00 (intervencija v javni prostor)
Ne-festivalska otvoritvena karavana
---
31. 7. 2019, 20.00 (Pr' kozolc)
Upogljivi upor, forumska predstava

Forumska predstava o podnebnih spremembah, ki je nastala kot rezultat štiridnevnega procesa in rezidence mednarodne zasedbe umetnic_kov, aktivistk_ov in izvajalk_cev metode gledališča zatiranih. Predstava bo služila kot izhodišče za organiziranje gibanja forumskega gledališča o podnebni pravičnosti po vsej Evropi.
---
1. 8. 2019, 19.00 (Kulturni dom Gornji Grad)
Plastika fantastika, 6+, glasbeno gledališka risanka

Izobraževalna predstava za otroke, glasbeno gledališka risanka, ki se preko interaktivne dramske igre ukvarja s problemom plastičnega onesnaževanja, praksami recikliranja ter vprašanjem individualne in kolektivne odgovornosti. Predstava nastaja v okviru umetniške in raziskovalne usmeritve ReUse centra na Reki (projekt, ki poteka v okviru programa Reka 2020 – Evropska prestolnica kulture), in predstavlja sodelovanje mladih reških performativnih in vizualnih/likovnih umetnikov. Scenografija in kostumografija v predstavi je izdelana iz recikliranih plastičnih materialov, sama predstava se na koncu spremeni v delavnico za izdelavo šolskih peresnic iz plastičnih vrečk, kar ponuja praktično upcycling doživetje.
Avtorice in superjunakinje: Sendi Bakotić, Anja Sabol, Vanda Velagić
Režija: Alisa Debelić
Kostumografija, scenografija in rekviziti: Tanja Blašković
Video: Tanja Blašković, Luka Matijaš, Ivan Dragnić
Vodja delavnice: Tanja Blašković
Glasba: Mario Jovev in prosto dostopna glasba z interneta
Podpora:  Društvo molekularnih združenj, ReUse Center Rijeka
Predstavo je sofinancirala Oddelek za kulturo mesta Reke in Primorsko-goranska županija.
---
1. 8. 2019, Različne ure in lokacije v Gornjem Gradu
Majdina večerna šola

Prisrčna, angažirana in agresivna mirovnica, upokojena učiteljica matematike Majda iz Mengša povede svoje učence, pardon, publiko v interaktivno razpravo o mirovništvu, recikliranju, človekovih pravicah, o neskončni uporabi plastičnih vrečk in kako se zavarovati pred atomsko bombo. V času pouka bo pobirala tudi podpise za prepoved vojne v Sloveniji.
Avtorica in izvajalka: Anja Bezlova
---
1. 8. 2019, 21.00 (Pr' kozolc)
Impro forum
Transformatorjeva specialiteta, nova tehnika gledališča zatiranih, ki jo razvijamo člani in članice društva, v katerem se zanimamo za delovanje gledališča zatiranih tukaj in zdaj ter kombiniranje z drugimi gledališkimi pristopi – v tem primeru z improvizacijskim gledališčem, ki ga povezujemo in postavljamo v najbolj znano in popularno tehniko gledališča zatiranih, forumsko gledališče. Impro-forumska predstava je predstava forumskega gledališča, ki temelji na improvizaciji, kar pomeni, da pred predstavo igralci nimajo nobenega v naprej predstavljenega scenarija. Scenarij predstave se oblikuje na licu mesta, glede na predloge iz občinstva. To pa predstavo popelje po v naprej neznanih poteh raziskovanja in razreševanja različnih situacij, ki jih iz življenja premikamo na oder ter dodajamo intervencije.
Predstava bo v angleškem jeziku.
Izvedba in produkcija: KUD Transformator 
---
2. 8. 2019, 19.00 (DEOS, Center starejših Gornji Grad)
Oblačne zgodbe
Zgodba o neskončnem življenju oblaka. Vse drugo boste že še izvedeli! Celotna štorija ima nekaj malega zgodovine. Prikazen po imenu L. je začela zbirati smeti po ulicah. Potem je pomislila na oblak. Potem je iz plastike, ki jo je zbrala, naredila knjigo. Tako se je po koščkih prikazala zgodba. Kaj več vam zdajle ne morem povedati! Če bi si želeli ustvarjati zvoke v ozadju med potekom zgodbe, ste dobrodošli!
Avtorica knjige, ilustracij in zgodbe: Lucika Lucic (Luvija Leksić)
---
2. 8. 2019, 19.40 (DEOS, center starejših Gornji Grad)
Komu grmi?, interaktivna diskusija
---
2. 8. 2019, 21.00 (pri Galeriji)
Hišni bend, okoljsko angažirani koncert
---
3. 8. 2019, 19.00 (pri Galeriji)
Čoln
Odprto morje, pustolovščina, svoboda … pa tudi bližajoče se nevihte in pošasti, ki se skrivajo v temnih globinah … upanje na boljši jutri, ki se lahko spremeni v poslednjo pot. Pridružite se posadki malega čolna, ki bo zajadral čez horizont in mogoče bomo skupaj končno odkrili obljubljeno obalo!
Avtor: Skupina Tretja roka
---
3. 8. 2019, 20.00 (Pr' Kozolc)
Ne-festivalska končna produkcija
Predstavitev produkcije delavnic.
---
---
ENG
PERFORMANCES AND OTHER EVENTS
30th July 2019, 20.00 (Cultural house)
One Pink Is Enough, Forum performance
Forum theater play "One pink is enough" has been developed as a response to a recent decision by local and state court in Slovenia in case of rape not being recognised as such. Through the process of creating a play and interacting with the spect-actors, the creators confirm the assumption of every "yes" and "no" to be in favour of men. No matter the convetions and international agreements. One is enough, to be the reality of every woman. The play is interactive, therefore it invites spect-actresses/actors to consider the situation presented and act accordingly, represent through intervention.
Performers: Magdalene Krivopete
Production: Magdalene Krivopete, KUD Transformator
---
31st July 2019, 19.00 (intervention into the public space)
Non-festival opening caravan (music, instruments, dancers, actors, masks, transparents, …)
---
31st July 2019, 20.00 (Pr' kozolc)
Resilient Revolt
A forum performance about climate change, the result of a four-day process and residency of an international team of artists, activists and TO performers. It will serve as a platform for organising a movement of forum theatre on climate justice throughout Europe.
---
1st August 2019, 19.00 (Cultural house)
Plastic Fantastic, A musical theatrical cartoon, 6+
An educational children's performance, a musical theatrical cartoon employing interactive drama play for dealing with the problem of plastic pollution, recycling practice and questions of individual and collective responsibility. The performance is part of the artistic research approach of the ReUse Centre in Rijeka (a project taking place in the framework of the Reka 2020 – European Capital of Culture) and is the result of cooperation among young performance and visual artists from Rijeka. The stage design and costumes are from recycled plastic materials while the performance itself turns into a workshop for making pencil cases from plastic bags, thus offering a live upcycling experience.
Authors and superheroes: Sendi Bakotić, Anja Sabol, Vanda Velagić
Director: Alisa Debelić
Costume design, set design, props: Tanja Blašković
Video: Tanja Blašković, Luka Matijaš, Ivan Dragnić
Workshop leader: Tanja Blašković
Music: Mario Jovev
Supported by the Association of Molecular Associations, ReUse Center Rijeka
The performance was co-financed by the Department of Culture of the City of Rijeka and the County of Primorje-Gorski kotar.
---
1st August 2019 (different locations and time during the day)
Majda's Evening school
The warm-hearted, engaged and aggressive pacifist, retired teacher of mathematics Majda from Mengeš leads her students, or rather, spectators, into an interactive discussion of pacifism, recycling, human rights, the neverending usage of plastic bags and how to protect oneself from an A-bomb. During class she will also be collecting signatures for her petition against war in Slovenia.
Author and performer: Anja Bezlova
---
1st August 2019, 21.00 (Pr' kozolc)
Impro forum
A delicacy by the Transformator Association, a new TO technique developed by the members of the association, concerning the functioning of theatre of the oppressed here and now and combining it with other theatre approaches – in this case improvised theatre introduced into the most renowned and popular form of TO – the forum theatre. An improforum performance is a forum thatre performance based on improvisation, meaning that before the show the actors have no predetermined screenplay. The story of the play is formed in the moment of performing it, based on suggestions made by the audience. This leads the performers onto previously unknown paths of researching and resolving diverse situations transferred from real life onto the stage with added spect-actors' interventions.
The performance will be performed in English.
Performed and produced by: KUD Transformator
---
2nd August 2019, 19.00 (DEOS, Centre for elderly people Gornji Grad)
Cloudy Tales
A story about the infinite life of a cloud. Everything else you will find out! The whole story has a bit of history. An apparition called L. started to collect garbage from streets. Than she thought about a cloud. Than she made a book out of the plastic she collected. Then little by little the story appeared. The rest I cannot tell you right now!
Those who would like to make sounds in the background with your instruments while the story is going on are heartly welcome!

Author of the book, illustrations and story: Lucika Lucic (Lucija Leksic).
---
2nd August 2019, 19.40 (DEOS, Centre for elderly people Gornji Grad)
For Whom The Thunder Rumbles?, Interactive discussion
---
2nd August 2019, 21.00 (at the Gallery)
House bend, environmentally engaged concert
---
3rd August 2019, 19.00 (at the Gallery)
The Boat
Open sea, adventure, freedom … but also impending storms and sea-monsters hiding in the deep … Hope for a better tomorrow that can change into a path beyond … Join the crew of our small boat that will sail over the horizon and perhaps we can find the promised shore together!
Author: Third Hand Group
---
3rd August, 20.00 (Pr' Kozolc)
The final production of the Non-festival
Presentation of workshop productions
Delavnice za otroke // Workshops for children
English below.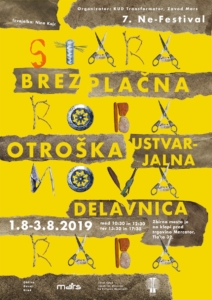 SLO
DELAVNICE
Stara roba, nova raba 
Nina Kojc (1., 2. in 3. avgusta med 10.30 in 12.30 ter 15.30 in 17.30).
Zbirno mesto: na klopi pred trgovino Mercator, Tlaka 32.
Delavnice je BREZPLAČNA.
Kako ponovno uporabiti tetrapak? Te zanima kako se slika s kamni? Kako si splesti mavrično preprogo?
Skozi zgodbe, ki nam jih bo ponudila MARSova čitalnica na obisku, bomo raziskovali povezanost narave in človeka ter razmišljali o načinih varovanja okolja. Na delavnici bomo iz naravnih in recikliranih materialov ustvarjali uporabne in umetniške izdelke, starim predmetom poiskali nov pomen in uporabno vrednost ter spoznali, kaj vse je z malo iznajdljivosti mogoče izdelati kar doma ter se pri tem izogniti nepotrebnemu nakupovanju.
Delavnico poteka v sodelovanju z Zavodom MARS.
---
---
ENG
WORKSHOPS
Old stuff, new use 
Nina Kojc (1., 2., 3. Of August from 10.30 to 12.30 and 15.30 to 17.30).
Children can attend every day or just individual time slots.
Meeting place: the bench in front of the Mercator shop, address: Tlaka 32.
How to reuse packaging? Are you interested in painting with rocks? Would you like to make a rainbow carpet? Through stories introduced by the visiting MARŠ reading room we will explore the connection between man and nature and consider how to protect the environment. Recycled and natural materials will be used to make utilitarian and artistic products, old objects will be given a new life, use and value. We will learn about things that we can produce at home and thus avoid unnecessary shopping.
The workshop will be conducted in collaboration with the MARŠ Association.
Urnik // Timetable
English below.
SLO
SREDA, 31. 7. 2019
od 15.00 registracija
19.00 Ne-festivalska otvoritvena karavana
20.00 Resilient Revolt – forumska predstava
ČETRTEK, 1. 8. 2019
10.00-13.00 delavnice
12:00-20:00 Majdina večerna šola – interaktivna intervencija
13.00-15.00 kosilo in prosto
15.00-18.00 delavnice
18.00 večerja
19.00 Plastika fantastika – izobraževalna predstava za otroke
21.00 Impro forum – improvizirana forumska predstava
PETEK, 2. 8. 2019
10.00-13.00 delavnice
13.00-15.00 kosilo in prosto
15.00-18.00 delavnice
18.00 večerja
19.00 Oblačne zgodbe – performans
20.30 Komu grmi? – interaktivna diskusija
21.00 Ne-festivalski koncert
SOBOTA, 3. 8. 2019
10.00-13.00 delavnice
13.00-15.00 kosilo in prosto
15.00-18.00 delavnice
18:00 večerja
19.00 Čoln – ulična predstava
20.00 Produkcije delavnic in zaprtje Ne-festivala
NEDELJA, 4. 8. 2019
Zjutraj – odhodi
​*Pridržujemo si pravice do spremembe programa.
---
---
ENG
WEDNESDAY, 31. 7. 2019
from 15.00 registtration
19.00 Non-Festival opening caravan
20.00 Resilient Revolt – forum performance
THURSDAY, 1. 8. 2019
10.00-13.00 workshops
12:00-20:00 Majda's Evening School – interactive intervention
13.00-15.00 lunch and free time
15.00-18.00 workshops
18.00 dinner
19.00 Plastic Fantastic, educational performance for children and family
21.00 Impro Forum – improvised forum performance
FRIDAY, 2. 8. 2019
10.00-13.00 workshops
13.00-15.00 lunch and free time
15.00-18.00 workshops
18.00 dinner
19.00 Cloudy Tales – performance
20.00 For Whom the Thunder Rumbles? – Interactive discussion
21:00 Non-Festival Concert
SATURDAY, 3. 8. 2019
10.00-13.00 workshops
13.00-15.00 lunch and free time
15.00-18.00 workshops
18.00 dinner
19.00 The Boat – street performance
20.00 Workshop productions and closing of the Non-festival
SUNDAY, 4. 8. 2019
Morning – departures
​*We reserve the right to make changes to the program.
CENA // PRICE
English below.
SLO
CENIK* IN PRIJAVE
– EARLY BIRDS prijave in plačila do 30. 6. 2019: 50 EUR**
– Prijave in plačila po 30. 6. 2019: 70 EUR**
Spletne prijave sprejemamo do 15. 7. 2019 na linku https://forms.gle/7694NwSi6rKucxYj7.
Prijave za otroke: https://urlzs.com/u4SvP.
*V karto je vključeno spanje v Ne-festivalskem kampu, jutranja kava, čaj in sadje, dnevno dva veganska/vegetarijanska (kosilo in večerja), delavnice in predstave ter delavnice, prehrana in varstvo za otroke.
**V skladu s svojimi finančnimi zmogljivostmi in z načeli solidarnostne ekonomije lahko pri plačilu nakažete tudi višji znesek od navedenega in tako organizatorjem dogodka olajšate delo.
---
---
ENG
PRICES* AND HOW TO APPLY
EARLY BIRDS applications and payments until 30. 6. 2019: 50 eur**
Applications and payments after 30. 6. 2019: 70 eur**
We will be accepting online applications until 15. 7. 2019 at: https://forms.gle/7694NwSi6rKucxYj7.
Applications for children: https://urlzs.com/u4SvP.
*The ticket includes sleeping in the Non-festival camp, morning coffee, tea and fruit, two vegan/vegetarian meals per day (lunch and dinner), workshops and performances, workshops for children and childcare.
**According to the state of your finances and the principles of solidarity economy you can also transfer a bigger amount, thus helping the organisers of the event.