8. MEDNARODNI NE-FESTIVAL GLEDALIŠČA ZATIRANIH // 8th INTERNATIONAL NON-FESTIVAL OF THE THREATRE OF THE OPPRESSED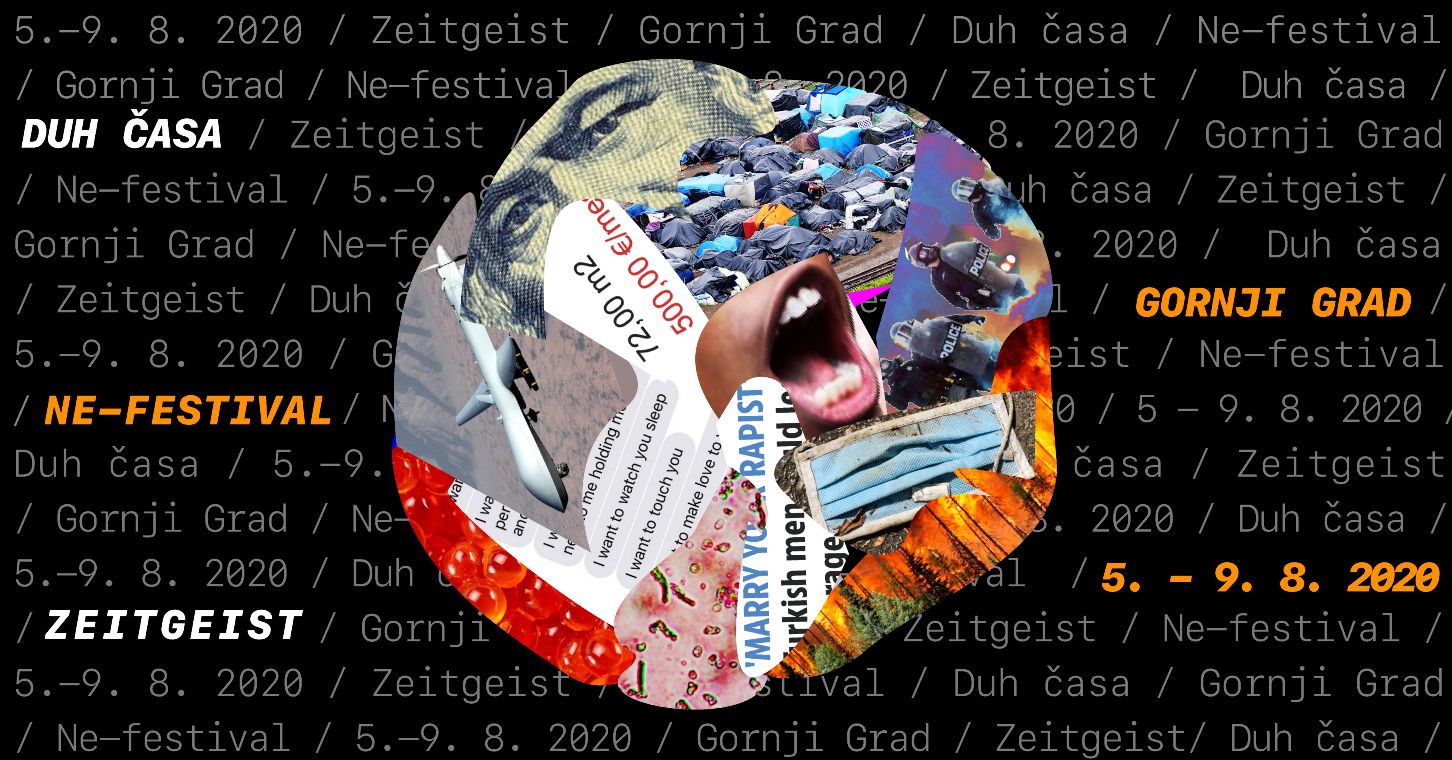 Letošnji kreativni in izobraževalni ne-festivalski angažma je povzet v geslu "Duh časa". Ta je posebej ostro zarezal v tkivo civilizacije s privajanjem na virusno krizo, ki je hkrati odkrila, kje vse družba gnije in trohni. V nepričakovanih in zahtevnih časih pa lahko zadiši tudi po spremembah – ekonomska neenakost, kratenje osnovnih človekovih pravic, okoljska kriza, interes kapitala pred dobrobitjo človeštva so nekateri izmed duhov 21. stoletja. Duhov se ne smemo bati. Potrebno jih je poiskati, spoznati, nasloviti in z angažmajem sooblikovati svet in čas, ki jima pripadamo.
Ne-festival gledališča zatiranih problematike išče in najde – z delavnicami, predstavami in spremljevalnim programom, ki vzpostavljajo prostor debate in omogočajo skupno iskanje rešitev za bolj solidarno ter ljudem in okolju prijaznejšo družbeno ureditev.
ENG
This year the topic of the creative and educational engagement of the Non-festival can be summarised in the motto 'Zeitgeist'. This became obvious as the adaptation to the virus crisis sharply cut into the tissue of our civilisation and disclosed the many festering and rotting corners of our society. However, such unexpected and trying times can also bring about change – economic inequality, encroachment of basic human rights, environmental crisis, placing the interest of capital before the wellbeing of humanity – these are just some of the ghosts of the 21st century. We should not fear these ghosts, however. We need to seek them out, get to know them, address them and co-create the world and time we belong to through our engagement.
Non-festival of Theatre of the Oppressed seeks out and addresses such issues – through workshops, performances and accompanying programme which open up a space for discussion and allow for a communal search for solutions to increase solidarity and create a social order more amiable to people and the environment.
Pomembne informacije // Important information
English below.
SLO
Gornji Grad leži v dolini med gorami, zato so lahko noči tudi sredi poletja dokaj hladne. Poleg kreme za sončenje, sandalov, kratkih hlač in slamnikov ne pozabite prinesti toplih oblačil za zvečer, pa tudi dežnika ali pelerine, če bo slučajno deževalo. Gornji Grad leži sredi neokrnjene narave in želimo si, da bi tako tudi ostalo. Zato zagovarjamo življenje v skladu z naravo.
Kamp je dokaj rudimentaren, brez električne napeljave in vodovoda. Oboje, pa tudi brezžični internet, je na voljo v Nefestivalski hiši kakih sto metrov stran od kampa, spodbujamo pa vas, da se za nekaj časa odrečete udobju civilizacije in se prepustite bolj prvinskemu življenju. Zraven kampa teče lep bister potok, kjer se lahko umijete. V kampu bodo na razpolago poljska stranišča in poljski tuš, pa tudi naravno milo.
Prinesite šotor, spalno vrečo in odejo.
Prinesite pulover ali jopo za večere, ki so lahko dokaj hladni.
Prinesite s sabo svoj krožnik, skodelico in pribor, da se izognemo kupom odpadnega plastičnega posodja.
Prinesite žepno svetilko, saj v kampu ni osvetljave.
Ne pozabite kopalk, saj je v bližnji rečici čudovit tolmun, kjer se lahko osvežite.
Stvari spravite v plastično vrečko, da jih zavarujete, preden jih spravite v nahrbtnik. Smeti odlagajte v vreče za smeti v kampu in ločujte odpadke.
Čez reko v mestu je trgovina, kjer lahko kupite sadje, prigrizke in pijačo.
Pazite nase in na druge. Vsi bi se radi imeli lepo zato moramo paziti drug na drugega. Nenazadnje, s sabo prinesite dobro voljo in proaktivnosti, saj na Ne-festivalu vsi sodelujoči soustvarjamo vse aktivnosti po principu aktivne participacije temelječe na skupnostnem delu.
---
---
ENG
Gornji Grad lies in a valley among mountains, so even in the peak of summer nights can get cold. Be sure to bring enough warm clothes for evenings, as well as sunblock, flip-flops, shorts and sunhats. Just in case it rains also bring  some wet weather gear too. Gornji Grad lies amidst beautiful nature and we would like to keep it this way. So we promote living in harmony with nature.
The campsite is rather basic, with no electricity and plumbing. Both, as well as wireless internet, will be provided in the Non-festival headquarters some 100 meters from the campsite, but we encourage you to let go the perks of civilisation and enjoy the wilder side of life for a while. There is a beautiful pure stream running by the camp which can be used for washing and brushing your teeth. Field toilets and a field shower will be provided at the campsite, as well as natural soap.
Bring a tent, plus sleeping bag and blanket.
Bring your own plate, cup and utensils in order to avoid piles of waste plastic dishes.
Warm jumper and a jacket for the evening as it can get a little colder at night.
Bring a flashlight, as there are no lights in the camp.
Bring swimwear as there is a lovely swimming spot at a nearby river and it is really refreshing to take a dip in it on a hot summer day.
Pack your things into a plastic bag before putting into rucksack to keep them protected. Use the recycling trashbags at the campsite and sort your waste.
There is a shop in the town of Gornji Grad just across the river where you can get fruit, snacks and drink.
Take care of yourself and of each other.  We all want to have a great time, and looking out for your friends and other people around you can help to keep us all safe. Finally, bring a positive and proactive attitude. In the Non-festival all participants co-create all activities according to the principle of active participation based on communal work.
Delavnice // Workshops
English below
SLO
Jaša Jenull: Ulične akcije (umetnost aktivizma & aktivizem umetnosti)
6.-8. 8. 2020, dopoldan

Na delavnici se bomo seznanili z nekaterimi osnovnimi principi in uporabnimi mehanikami intervencij in umetniških akcij v javnem prostoru. Delavnice bodo združevale praktične vaje in preizkuse v javnem prostoru Gornjega gradu s teoretično analizo ciljev in sredstev uličnega delovanje. Nekatera izmed področij, ki se jih bomo dotaknili so: uporaba konkretnega prostora, interakcija z publiko, delovanje v skupini, žive metafore, telo kot sporočilo, povezovanje "vzvišenih konceptov" z "banalnimi realnostmi" in mehki terorizem.
Jaša Jenull (playthecity.org) je diplomiran gledališki režiser, ki je leta 2008 iz alternativnega gledališča odkorakal na cesto in začel ustvarjati kar tam. S svojimi interaktivnimi  gledališkimi dogodki je kršil ustaljene norme in pravila že v preko 40-ih državah sveta. V prostem času so-organizira kolesarske dogodke in državne vstaje.
---
Birgit Fritz: Duh strahu
6.-8. 8. 2020, popoldan

Boal je gledališče poimenoval za borilno veščino. Policaji v glavi so ena stvar, strah v kosteh pa je nekaj čisto drugega. Kako lahko sredstva transformativnega gledališča uporabimo v borbi z neznanim? Krišnamurti pravi, da obstaja le dvoje čustev: strah in ljubezen. Je res tako? V gledačlišču gre za pripovedovanje zgodb. Čustva so vpisana vanje. Če se hočemo spopasti s strahom, moramo izbrisati svoje zgodbe – in kdo bomo potem? Kaj nas lahko osreči, za kaj smo hvaležni? Lahko to postane vir strasti, da ponovno najdemo moč za nov začetek?
Birgit Fritz (birgitfritz.net), rojena na avstrijskem koroškem, je avtorica knjige InExActArt – The Autopoietic Theatre of Augusto Boal: a Handbook of Theatre of the Oppressed Practice. (NeEksAktNa umetnost – avtopoetsko gledališče Augusta Boala: priročnik za prakticiranje gledališča zatiranih. Ima dolgoletne praktične izkušnje z gledališčem zatiranih, je dramska terapevtka, učiteljica metode feldenkrais, članica ISIRRI in soustanoviteljica organizacij TDU-Wien ter Forumtheatregroup SpielerAI. Na Univerzi na Dunaju uči predmet Gledališče kot raziskovanje, kot gostujoča mentorica pa je vodila tudi treninge v Sloveniji in Baskiji.
---
Amanda Kladnik in Maja Žerovnik: Zeliščna pripoved
6.-8. 8. 2020, dopoldan

Na delavnici vas bo zeliščarka in ena izmed skrbnic zeliščnega vrta popeljala v čarobni svet zelišč in gozdnega življenja. Zelišča nežno šepetajo zgodbe. Tudi vašo. Prisluhnite ji. Doživetje je sestavljeno iz večih povabil za senzorične aktivnosti in čajnim obredom v vrtu. Prav tako bomo iz naravnih sestavin po starodavnem receptu izdelali smrekovo mazilo, ki je nepogrešljiv del vsake domače lekarne.
Amanda Kladnik in Maja Žerovnik (zeliscnavas.si/sl/zeliscna-vas/) živita, ustvarjata in delata v majhni vasici Gornji Grad v Zgornjesavinjski dolini. Sta zeliščarki in pripovedovalki zgodb ter skrbnici očarljivega zeliščnega vrta in zeliščarne v trškem jedru. Amanda Kladnik je svoje strokovno znanje o tradicionalnem zeliščarstvu pridobila na TEH (Traditionelle Europaeische Heilkunde) Akademie v Avstriji. Maja Žerovnik pa se je na Norveškem udeležila izobraževanja o gozdni terapiji/kopeli pod okriljem ANFT (Association of Nature and Forest Therapy) iz Kalifornije, ZDA
---
Hannah Sneyd in Germán Torres: Skupnostna skrb
6.-8. 8. 2020, popoldan

Letošnji dramatični dogodki so neposredno nastavili črno zrcalo celi vrsti nevzdržnih praks današnje družbe: izolacija in zapiranje sta mnogim povzročila stres in tesnobo, drugim pa prinesla olajšanje od nenehnega tekočega traku kapitalizma. Jasno je, da je čas neusmiljene individualizacije minil in da se moramo zbrati in ustvariti nekakšno novo skupnostno paradigmo. A kako naj v času osebne krize ponudimo in sprejmemo pomoč drugih in sežemo onkraj enostavne skrbi sami zase? Na delavnici bomo orodja gledališča zatiranih uporabili za raziskovanje raznolikih vidikov psihološkega, družbenega in čustvenega zdravja, lotili se bomo dekonstruiranja diagnoz in raziskovali duševno zdravje ne kot stanje, temveč kot fluidno izkušnjo, osredotočili se bomo na stigmo in raziskali različne razsežnosti blaginje.
Hannah Sneyd in Germán Torres  (reboottheroots.org.uk) sta izvajalca iz dobrodelne organizacije Reboot the Roots, ki zagovarja družbeno vključevanje s pomočjo umetnosti. Hannah vodi proces utelešenja in nastopanja za družbene spremembe, pri čemer večinoma uporablja gledališče zatiranih in družinske konstelacije. Germán pa je član antipsihiatričnega gibanja v Kataloniji.
---
---
ENG

Jaša Jenull: Street action (art of activism & activism of art)
6.-8. 8. 2020, forenoon

The workshop will present some of the basic principles and useful mechanics of interventions  and artistic actions in public space. The workshop will combine practical exercises and tests in the public space of Gornji Grad combined with theoretical analysis of the goals and means of street activism. Some of the areas considered include: use of concrete space, interaction with audience, group work, living metaphors, body as message, connecting 'elevated concepts' to 'banal realities' and soft terrorism.
Jaša Jenull (playthecity.org/) holds a B.A. in theatre direction. In 2008 he left alternative theatre and started creating in the streets. His interactive theatre events have challenged set norms and rules in over 40 countries all over the world. In his free time he co-organises bicycle events and protests.
---
Birgit Fritz: The ghost of fear
6.-8. 8. 2020, afternoon

Boal called theatre a martial art. And cops in the head are one thing, but fear in our bones is yet another. How can we use the means of transformative theatre to fight what we don't know? Krishnamurti said there are only two emotions: fear and love. Is that so? Theatre is about telling stories. Emotions are inscribed within them. If in order to fight fear, we need to delete our stories – who are we then? What makes us happy, what are we grateful for? Can this be the source of our passion to regain strength for a new beginning?
 Birgit Fritz (birgitfritz.net), born in Carinthia, is the author of InExActArt – The Autopoietic Theatre of Augusto Boal: a Handbook of Theatre of the Oppressed Practice. She is a longstanding TO practitioner, dramatherapist, feldenkrais-teacher, member of JSIRRI, and co-founder of TdU-Wien and Forumtheatregroup SpielerAI. She teaches Theatre as research at the University of Vienna, and she has also led trainings as a visiting tutor in Slovenia and the Basque country.
---
Amanda Kladnik and Maja Žerovnik: Herbal story
6.-8. 8. 2020, forenoon

One of its caretakers, the herbalist Maja will introduce you into the magical world of herbs and forest life. The herbs are gently whispering their stories and yours as well. You just need to listen.The experience will include several invitations to sensoric activities. We will use natural ingredients to make a pine balm according to a traditional recipe which is a must for any domestic pharmacy.
Amanda Kladnik and Maja Žerovnik (zeliscnavas.si/sl/zeliscna-vas/) live and work in the village of Gornji Grad in the Zgornjesavinska valley. They are herbalists, storytellers and caretakers of the charming herbal garden and herb shop. Amanda Kladnik gained her expert knowledge of traditional herbalism at the TEH (Traditionelle Europaeische Heilkunde) Akademie in Austria. Maja Žerovnik participated in a training course on forest thearpy/bath under the auspices of ANFT (Association of Nature and Forest Therapy) of California, USA.
---
Hannah Sneyd and Germán Torres: Collective care
6.-8. 8. 2020, afternoon

The dramatic events of this year have pointed a black mirror directly at many unsustainable aspects of our society; isolation and lockdown bringing up stress and anxiety in many and relief from the constant capitalistic treadmill for others. It is clear that the time of ruthless individualisation is over and we must come together to create a new collective paradigm. But in times of personal crisis, how can we offer and accept help from others and move beyond simple self-care? In this workshop we will use tools from the Theatre of the Oppressed to explore multiple aspects of psycho-social-emotional health, coming to deconstruct diagnoses and explore mental health as a fluid experience rather than a state, working with stigma and exploring multiple dimensions of wellbeing.
Hanu Sneyd and Germán Torres (reboottheroots.org.uk) are facilitators from Reboot the Roots, a charity that promotes social inclusion through the arts. Hanu leads embodied process and performance for social change, mainly using Theatre of the Oppressed and Family Constellations. Germàn is a part of the anti-psychiatric movement in Catalunya.
Predstave // Performances
Delavnice za otroke // Workshops for children
KAR JE STARO NI ZA ŠARO
Namen delavnice je povezati zabavo, učenje in raziskovanje sveta ter sebe z odgovornim odnosom do sveta. Preko umetniškega ustvarjanja iz raznoraznih že »odsluženih« predmetov se bomo spoznavali z idejo, da se v odvrženem in na videz neuporabnem skriva potencial za nekaj novega, koristnega, navdihujočega, estetskega. Končni izdelek ne bo zgolj lutka, kip ali risba. Bistveno je, da ima otrok pri ustvarjanju prosto pot do izražanja sebe in da se ga preko pogovora spodbuja pri tem, da sam razmišlja o svetu in tem, kako lahko sam pripomore k boljšemu ne le jutrišnjemu temveč tudi današnjemu dnevu.
Metode in pristopi uporabljeni v delavnici izvirajo iz socialnopedagoške prakse.
Sanja Kranjc je absolventka socialne pedagogike. Kot študentka je opravljala prakso v okviru osnovne šole, prostovoljno sodelovala pri organizaciji doživljajskega tabora Izzivnik, bila animatorka in mentorica otrok na letovanjih, pripravila in vodila interaktivno malo šolo gasilskih veščin ter redno izvajala delavnice na temo varnosti v prometu in nastopala v dveh različnih gledaliških igrah na to temo. Je članica mlade aktivistično-igralske zasedbe Upogljivi upor.
---
---
ENG
OLD JUNK NEW FUNK
The purpose of the workshop is to connect entertainment, learning and exploring the world and oneself with a responsible attitude towards the world. Through artistic creation from various already "used" objects, we will get to know the idea that the potential for something new, useful, inspiring, aesthetic is hidden in the discarded and seemingly useless. The final product will not be just a puppet, statue or drawing. It is essential that the child has a free path to self-expression in creation and that he or she is encouraged through conversation to think about the world and how he or she can contribute to a better not only tomorrow but also today.
The methods and approaches used in the workshop derive from socio-pedagogical practice.
Sanja Kranjc is a graduate of social pedagogy. As a student, she did an internship in elementary school, volunteered for the Izzivnik adventure camp, was an animator and mentor of children on vacations, prepared and led an interactive small school of firefighting skills, and regularly conducted workshops on traffic safety and performed in two different plays on this topic. She is a member of the young activist-acting group Resilient Revolt.
PRIJAVNINA // APPLICATION FEE
English below.
SLO
CENIK* IN PRIJAVE
EARLY BIRD (prijave in plačila do 6. 7. 2020): 100-140 EUR **
Po 6. 7. 2020: 130-160 EUR **

*V ceno je vključeno spanje v Ne-festivalskem kampu, jutranja majhna kuhinja (pripravi si sam – kava, čaj in sadje), dva veganska/vegetarijanska obroka na dan (kosilo in večerja), delavnice in predstave, delavnice za otroke.
**Po principu solidarnostne ekonomije lahko plačate po svojih zmožnostih in s tem podprete kulturne delavke_ce, izvajalke_ce, mentorje_ice in organizatorke_je Ne-festivala. V skladu s svojimi finančnimi zmogljivostmi lahko pri plačilu nakažete tudi višji znesek od navedenega in tako organizatorjem dogodka olajšate delo.
Prijava je potrjena po uspešno izvedeni transakciji.
---
---
ENG
PRICES* AND HOW TO APPLY
EARLY BIRD (registration and payment before July 6th 2020) : 100-140 EUR **
After July 6th 2020: 130-160 € **
*The price includes sleeping in the Non-festival camp, morning coffee, tea and fruit, two vegan / vegetarian meals per day (lunch and dinner), workshops and performances, and workshops for children.
**Choose the amount by means of solidarity economy and support cultural workers organising and facilitating Non-festival. According to the state of your finances and the principles of solidarity economy you can also transfer a higher amount, thus helping the organisers of the event.
Registration is confirmed after the transaction in completed.