Gledališče zatiranih: gledališče dialoga in družbenih sprememb
Theater of the Opressed: theater of dialogue and social change [eng below]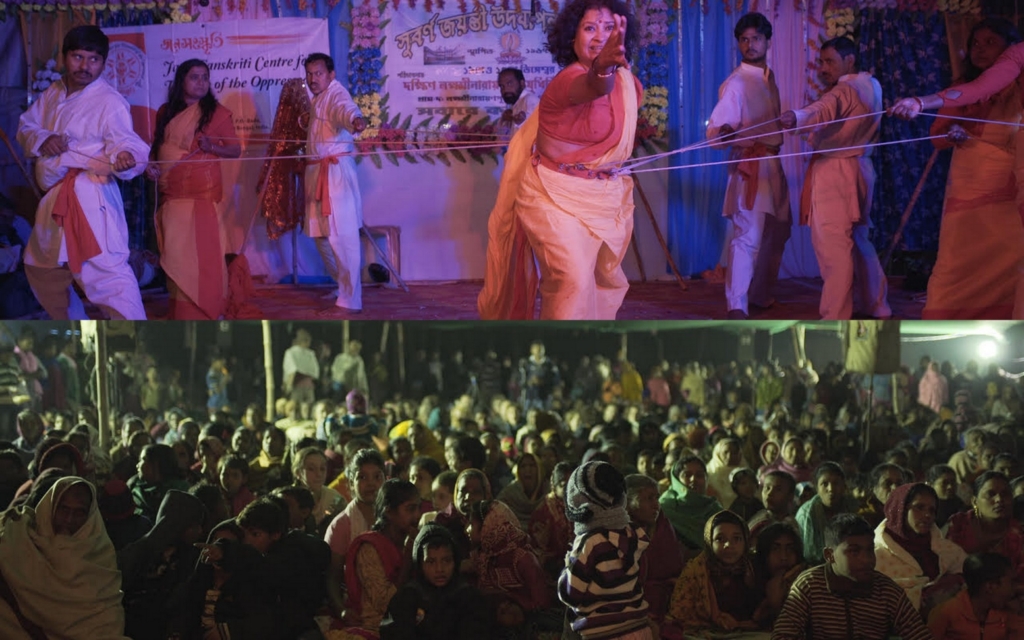 O filozofiji in praksi Jane Sanskriti, največje neprekinjene prakse forumskega gledališča na svetu
Pot organizacije in skupnosti Jane Sanskriti se je začela leta 1985 v majhni vasici Kolkate. Takrat v ruralnih predelih Indije ni bilo betonskih cest ali elektrike. Skupina, ki se je formirala in se formira še naprej, je prvih 10 let velikokrat rila v drsečem blatu v vasi, sprva pomagati pri opravilih, biti del skupnosti, da so njihovemu gledališču vaščanke in vaščani začeli zaupati. Nato so po vaseh formirali nove aktivistične skupine, ki skozi gledališče njihovih lastnih zgodb zatiranja,vse do danes neutrudno nastavljajo ogledalo ruralni in urbani skupnosti ter netijo intelektualno razpravo, ki povzroči kritično razmišljanje tudi, ko se zgodbe z odra končajo. S tem se konča tudi začaran krog slepega (ideološkega) sledenja.
Danes Jana Sanskriti povezuje 30 satelitskih skupin forumskega gledališča po vsej Indiji. V treh desetletjih so na odrih odpirali vprašanja, kot so nasilje v družini, otroške poroke, trgovina z deklicami, zloraba otrok, odvisnost od alkohola – vse skozi gledališče. Nedavna študija, ki jo je vodil Center za družbene vede v Kalkuti, je dokazala ključen vpliv participatornega gledališča pri spreminjanju družbenih norm.
Na 2-dnevni delavnici bomo premierno videli kratek film iz zadnjega 3-tedenskega Muktadhara festivala,ki ga vsako drugo leto organizira Jana Sanskriti in bo orisal delo, filozofijo ter družbeni kontekst, v katerem deluje, nato pa raziskovali, na kakšen način spreminja družbene norme in kako jih lahko prenesemo v naše okolje.
Delavnico bo vodila Tjaša Kosar, svobodna novinarka, pa tudi raziskovalka gledališča zatiranih v praksi v Sloveniji in tujini. Na eni izmed prvih mednarodnih delavnic, ki se jih je udeležila, je spoznala prakso in filozofijo Jane Sanskriti in vedela, da bo slej kot prej obiskala njihovo lokalno okolje delovanja. Ustvarjanje dokumentarnega filma o globalni depresiji jo je konec leta 2018 poneslo tudi v Indijo, kjer se je udeležila zadnjega Muktadhara festivala z več kot 50 mednarodnimi praktikantkami in praktikanti gledališča zatiranih ter se učila iz prakse indijske organizacije.
Soorganizatorji:
KUD Transformator
Zavod Bob
Mladinski center ULCA

*število prijav je omejeno
 *V kolikor se bo zvrstilo več mednarodnih prijav, bo delavnica potekala v angleščini
Več na
https://www.facebook.com/events/462547570990551/
 Program
Sobota
*11.00-12.00 Premierno predvajanje kratkega filma o Jani Sanskriti (festival Mutkadhara December 2018)
*12.00-14.00 Ustvarjanje skupnosti
*14.00-15.00 pavza za miselne izmenjave, hrano ali mir
*15.00-18.00 kreiranje (forumskega) gledališča s pomočjo družbenih metafor
 Nedelja
*11.00-14.00
Kreiranje (forumskega) gledališča s pomočjo družbenih metafor
*14.00-15.00
pavza za miselne izmenjave, hrano ali mir
*15.00-18.00
Eksperimenti iz odpiranja razprave in dialoga
Theater of the Opressed: theater of dialogue and social change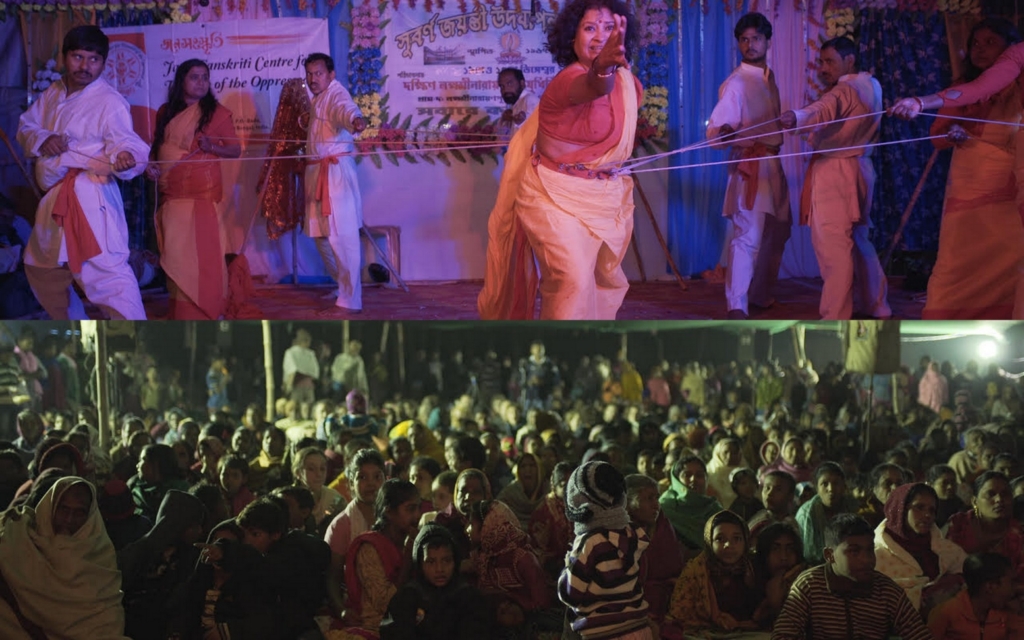 About the philosophy and work of Jana Sanskriti, the largest continuous forum theater practice in the world
The journey of Jana Sanskriti organization and their community began in 1985 in the small village of Kolkata. Back then, there were no concrete roads or electricity in rural parts of India. The team that formed and is constantly forming, spend the first 10 years in the villages as part of the community, helping the villagers with farm work, so they've built the trust. They then formed new activist groups in few villages, learning how to intellectually disturb through forum theater, which by their experiences reproduce critical reflections that end the vicious cycle of blind (ideological) following.
Today, Jana Sanskriti is connecting 30 satellite groups of forum theater across India. In the last three decades they opened community discussions on the countless stages on the topics like domestic violence, child marriages, girls trafficking, child abuse, alcohol addiction – all through theater. A recent study led by Center for Studies in Social Sciences Kolkata has demonstrated the key influence of forum theater on participation in changing social norms in the community.
During the 2-day workshop you will see a premiere screening of a short movie from the last 3-weeks long Muktadhara festival, which Jana Sanskriti organizes every second year, to learn more about the background of their work, philosophy and social context, and then explore in our own practice their ways of creating a social change, and how can we transfer it into our environment.
The workshop will be facilitated by Tjaša Kosar, a freelance journalist, as well as an explorer of theater of the oppressed in practice. At one of the first international workshops she attended, she learned about the practice and philosophy of Jana Sanskriti and knew that she would soon visit their local environment for more learning. Making a documentary on global depression brought her to India at the end of 2018, where she also attended the last 3-week Muktadhara Festival with over 50 international practitioners of theater of the oppressed, and learned from the practice of an Indian and other global organizations.
Co-organizers:
KUD Transformator
Zavod Bob
Mladinski center ULCA
More info on
https://www.facebook.com/events/462547570990551/
Programme
Saturday
*11.00 – 12.00 Premiere screening of a short movie about Jana Sanskriti (festival Mutkadhara December 2018)
*12.00 – 14.00 Creating the community
*14.00 – 15.00 A break for exchanging thought process, eating or be in peace
*15.00 – 18.00 Creating a (forum) theater with social metaphors
Sunday
*11.00 – 14.00 Creating a (forum) theater with social metaphors
*14.00 – 15.00 A break for exchanging thought process, eating or be in peace
*15.00 – 18.00 Experimenting in intellectual disturbing in dialogue